On Friday 29th November, our Hungarian teacher Veronka invited us to the gallery8 where she is working. Gallery8 is the Roma Contemporary Art Space of the European Roma Cultural Foundation – ERCF. The European Roma Cultural Foundation (ERCF) is an independent non-profit foundation registered in
2010
in Budapest.
"ERCF, the operational and fundraising body, exists to strengthen and widely promote the role of Roma arts and culture in the enlarging Europe (and beyond) as a way to fight against negative stereotypes and hostile attitudes towards Roma communities.

For a future world of artistic and cultural diversity where Roma arts, culture, history and language are equally valued and respected, and the power of artistic creation and education, especially that of young people, is essential for changing negative stereotypes towards people of Roma origin in the enlarging Europe and beyond."
Katarina Taikon was a Swedish writer with Roma origins. Her children book has been inspired by the events and the experiences of her own story and pursued the objective of drawing attention to an unknown reality. She reveals us a view of the world through Katitzi's eyes, a 9 years old Roma girl and the main character of the book.
Katitzi got extremely famous in Sweden and it is one of the first books talking about Roma identity and addressed to Roma as well as non-Roma children. Indeed, Katitzi has been one of the most significant characters of the Swedish children's literature. Hundreds of thousands of children and adults have read the book in Sweden. The story, not long after its coming out, appeared as a comic book as well as a magazine and a TV series.
"The book series 'Katitzi' has not only been a fascinating read for many generations, but was also a significant example of the new type of realistic children's literature emerging in the 1960s. It also provides the reader with an insight to a Swedish society dragged by ethnic and social tensions and to the destiny of Roma living in Sweden."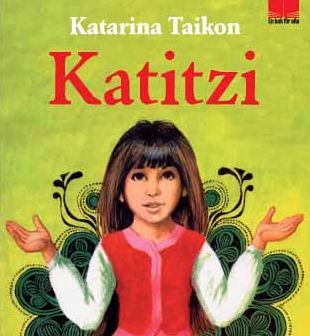 Spontaneously one question came into our mind: what reasons can we find for the success and popularity of Taikon's story, especially among non Roma readers?
"Is it the mixture of fairy tale and novel, together with the ancient motif of wandering that makes us go through this story of searching for home with such deep empathy? Maybe it is the unimaginable adventures of Roma life that maintain the actual attention of the readers? Or is it perhaps the destiny of a gipsy girl growing up amongst racism in a 20th (21st) century Europe that attracts us? And if the latter is the case – then why is it affecting us only in the form of literature? Is it a book that will open our eyes to social injustice and racism within society?"